While our last post finished with us returning our rental bikes in the North of Japan, this post begins with a Tokyo afternoon spent with a man who literally, literarily decapitates cats and drinks their blood.
And, also, about our special travel companions this time around! Pizza-cha and Pipo-san (Aka Carol and Philippe), Suz's sister and her fiancé spent 10 days with us in Japan!
Ok, back to the cat eating man, who claimed that his name was 'Johnny Walker.'
We met Johnny Walker by coincidence as we saw a big dog, with no leash, laying on a backstreet of Tokyo's Shinjuku neighborhood. Pizza excitedly asked the man standing by the Rhodesian Ridgeback, "Can we pet him?"
Within seconds of approaching, the light skinned man, with a belly protruding from his shirt blurted an antisemitic joke regarding the dog's nose, and upon seeing our WTF looks, let us know he was also Jewish.
After chatting for a few minutes, he offered to take us around in his fancy car to some art galleries. He shared his crazy life story, how 'everybody' knows him and that the famous Japanese author Murakami even based a character in his book Kafka on the Shore on Him and his dog. (We verified afterwards by reading the book, that it describes him and his dog almost perfectly…although were not sure about the drinking cat blood part).
Towards the end of the evening, and after hearing many of his weird anecdotes, he took us to the fanciest ice cream place in Tokyo. He accepted that we buy him an ice cream, "Toffee and Raspberries" or something like that, only to see him instantly feed the damn $8 ice cream to his dog!
When we asked him for a dinner recommendation he told us about a place with no name, no door and no address… 'Go down some stairs, under the bridge, behind a casino, white building, knock on the middle of the wall, and when someone appears, say Johnny Walker sent you.'
Seriously intrigued we went for it, and next thing we know a lady opens a tiny hidden door at the bottom of the wall:
Lady: Konnichiwaaa!
Us: Konnichiwa, Johnny Walker sent us.
Lady: Who?
Us: Johnny Walker
Lady: Jony Waka San??
Us: Yes
Lady: Ahhh Jony Waka San!! Wait 30 min, you can drink Sake upstairs and then we call you.
A few sakes later we were in the secret restaurant with delicious food and feeling all badass. All thanks to Jony Waka San!
Outside the hidden door 
Inside this strange secret restaurant
Our time with Pizza and Pipo was filled with more amazing and odd moments:
Tourist Pipo
We dressed as Pandas so we could fit in at the famous Bamboo Forrest in Kyoto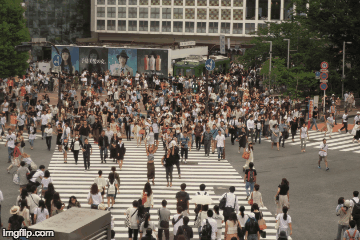 We had a dance party in the middle of Shibuya Crossing
Beautiful Nikko, crazy foreigners
We ate the best sushi ever and the most sushi ever in Osaka. Eel topped with melted butter…WOW
Many types of fish – Weird, but delicious (This one in Tokyo)
And Suz was told more than once that she has a small face. While at a tiny neighborhood bar, one man approached Suz and kept repeating "You have small face!" The crazy thing is that Suz received this 'compliment' multiple times.
Apparently in Japan they look at features from a different perspective so if you have a small face, big nose, or other features that you think make you unique, go flaunt them in Japan!
Guess what happened next? WE GOT A JOB! A fun job being summer camp Sensei for Japanese kids (ages 6-11) trying to learn English.
We were known as Mr Andy and Ms Suz, but we secretly loved when kids broke the 'No Japanese" rule and called us "Andy Sensei" or "Suz Sensei". We worked there for 3 weeks, organizing games and taking care of the kids.
A typical breakfast at camp. Andres LOVED the food, Suz quickly tired of the fishy brekky
Japan has a very disciplined culture and it was easy to recognize this in the kids at camp.
Just like kids all over the world, the Japanese kids misbehave, run around uncontrollably, break the rules, and cry for silly things. But, we did feel that the Japanese kids generally listen to what elders tell them with more respect, make their beds as soon as they wake up, clean their eating space when they are done, and don't complain about the food you give them. This is something we found to be very different from the American kids that were also part of camp, and something we saw in ourselves and our friends while growing up.
Exercises the kids have to follow every morning before school and camp
On the other hand, there are downsides to the high discipline, because we noticed kids many times find it difficult to make their own judgement and decisions. For example, it seemed like the 'Eat all your food' rule means you have to eat it ALL, regardless of how much you are served. This 7 year old kid always took a long time to finish the food that the cafeteria served him because he was so full he wanted to explode. For a few seconds we would sit and watch him slowly chewing, with his cheeks full of food, looking exhausted and breathing heavily.
"Takatoshi, you DON'T HAVE TO FINISH IT ALL!" we'd say. He'd put the chopsticks down with a look of absolute relief, but thinking our policy was too good to be true for every meal, the next day we'd again see him chewing and chewing, struggling to get gulps down. We would laugh hysterically for a little bit and then say "Takatoshi! STOP EATING!"
Science experiments for the kids 
The type of games favored by many of the Japanese kids was also different. Many of them loved playing the game where you use chopsticks to move raw black beans from one plate to another as fast as you can. Another one was using domino pieces to make intricate color coded structures. They could spend hours building with complete concentration, and when the time comes, they enjoy knocking down the first piece and reaping the fruits of their labor.
Suz Sensei getting her hair done
Some other stories and curiosities in Japan
Random vending machine featuring Tommy Lee Jones
Taxi drivers wear fancy gloves
People are very quiet. On the train, you can barely hear a thing as people are whispering to one another. No one yells, no one annoys you! Therefore, it was hilarious when Suz and Carol got a laugh attack in the train and they could not stop laughing, and while everyone was staring, the laugh was so contagious that even the Japanese started laughing!
When saying no, instead of shaking the head in a negative way like we do, they cross their arms to create the shape of an X. Its a sign used to express anything negative like "No, you cannot do that" or "Sorry, we are closed" or "You are going the wrong way"
To point at yourself, so as to say 'me', the Japanese point directly at their nose.
What are these guys reading?
Eeehhhhh makes sense now
People don't shake hands or kiss to say hello or good bye. There is a polite bow. However, sometimes it is not clear who is the most respectable person. In this case, its very funny to see both people bowing lower and lower and lower and checking to see if they have won the bowing competition to give the other person the most respect. In the end, both people end up almost touching their knees, until one awkwardly laughs, says 'Arigato' and gives up.
Fruits are often given as fancy gifts, and for this reason we saw a bunch of grapes costing $100, and a $50 melon.
$50 Melon 
$100 grape bunch
People slurp their food. The louder you slurp, the more you demonstrate how tasty your dish is. Andres especially loved this as Suz could not get angry over the 'bad' manners.
With all it's quirks, cultural differences, and extreme kindness…Japan won our hearts over and we can't wait to go back.
Awesome Kakuda family that hosted us in Fukuoka
Sayonara!